Arjoon wins Open Bounty Handicap title
-Verwey dethrones Alphonso to capture category 'A' crown
Guyana's top-seeded male player Alex Arjoon produced another disciplined performance to take the Open title of this year's Guyana Squash Association (GSA) Annual Bounty Farm Handicap Tournament at the Georgetown Club Squash Court yesterday.
Arjoon (-8) in the final defeated Regan Pollard, 15-6, 15-6 to notch up his first ever handicap title and his seventh title overall. Deje Dias copped third via a walkover from Steven Xavier.
Samuel Ince-Carvalhal captured the Open plate title by defeating Ian Mekdeci (2) 15-11, 15-11 in the final while Jonathan Antczak defeated Medhi Ramdhani 10-15, 15-9, 15-13 in the Open plate third-place match.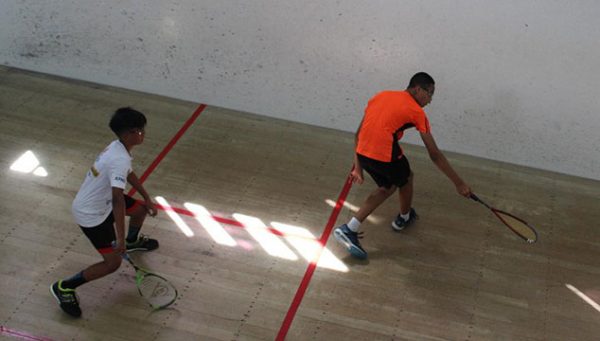 Nicholas Verwey, on the other hand, continued his impressive rise by winning another junior national title, this time, dethroning the defending champion Michael Alphonso (-2) in a thrilling come-from-behind win to take the category 'A' title 2-1.
The two fought neck-and-neck for the most part as neither player allowed the other to slip too far away, which saw the first set being tied at 6, 10 and 13, with a constant exchange of the lead before Alphonso pulled away to take the first set 15-13.
Verwey came out strongly in the second and led 7-3 and saw off the valiant effort from Alphonso to take the second set 15-14.
With the game tied at 1-1 and the championship on the line, Verwey, in the end, converted a 6-0 lead into a 15-10 third set win to clinch a well-deserved title, bringing the onlookers to their feet in cheers for the most exciting match of the day.
The third-place match between Kirsten Gomes and Abosaide Cadogan saw the latter defeating Gomes 2-0 in a keenly-contested battle between two friends.
Cadogan won the first set 15-12. Gomes, however, stretched her in the second, leading 12-6 before Cadogan produced a few exceptional plays to stage a remarkable comeback to take the second set and the match 15-14, pumping her fist in the end.
Meanwhile, the plate playoff title went to Mohryan Baksh (-3), who defeated Louis Da Silva (7) 15-13, 15-13 while Ethan Jonas (-4) captured third place after completing a 15-11, 15-12 win over Aishani Persaud. (Stabroek News)